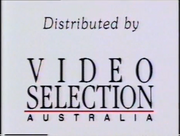 Video Selection Australia
released one VHS of Towser in association with
ABC for Kids
. They also released other shows with ABC for Kids such as Lift Off, Ferry Boat Fred, Thomas the Tank Engine and Friends (Series 3), Widget the World Watcher, Inspector Gadget and Fireman Sam.
Releases
Towser (Monday September 23, 1991)
Gallery
Ad blocker interference detected!
Wikia is a free-to-use site that makes money from advertising. We have a modified experience for viewers using ad blockers

Wikia is not accessible if you've made further modifications. Remove the custom ad blocker rule(s) and the page will load as expected.